Officer X rage across a heavy metal galaxy on the soaring 'Moon Man'
Boston band unleashes animated space odyssey music video on May 18; track hits the streams b/w Thin Lizzy's 'Thunder And Lightning' on May 20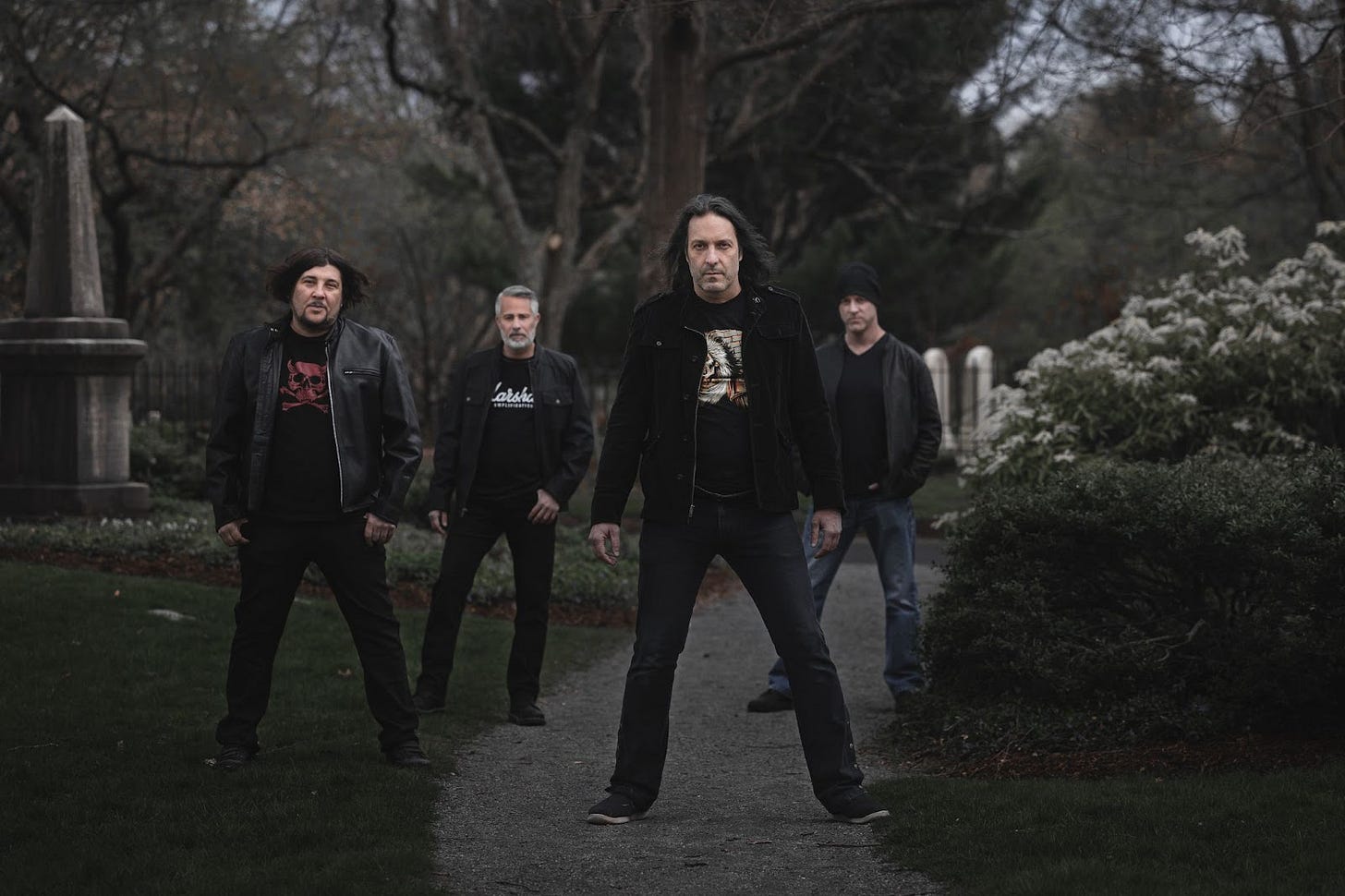 BOSTON, MA [May 18, 2022] – Move over SpaceX, here comes Officer X. The Boston-based heavy metal and hard rock band is ascending to the furthest reaches of the galaxy with its new single and video, an epic journey through the stars and alien lands titled "Moon Man." Blastoff is imminent: The comic art animation video, crafted by RC Media/Spliced Iris, makes its YouTube debut on Wednesday, May 18, a few days before the track crashes all major streaming platforms on Friday, May 20.
The hard-charging "Moon Man" is an epic and adrenalized track inspired by the New Wave of Traditional Heavy Metal and hard rock heroes of yesterday, and is Officer X's follow-up to last fall's debut single "Lady Soledad." It's just the beginning for the fledgling band, led by vocalist and guitarist Rodrigo van Stoli (Bang Camaro, Gymnasium) and bassist and vocalist Peet Golan (Spring Heeled Jack), which has more music aimed at the heavens and ready for release later this year.
But first they unleash "Moon Man," perhaps Officer X's most straight-up and straight-ahead rock song, and certainly its shortest (at an economical 3:03 runtime). It's a lightning bolt of a single with riffs inspired by Michael Schenker's "Captain Nemo" and Iron Maiden's "Back In The Village," and a lyrical turn penned by van Stoli that pulls from the historical macabre.
"I wrote the lyrics after reading The Unparalleled Adventure of One Hans Pfaall, an 1835 short story by Edgar Allan Poe," says van Stoli. "It's about a businessman from Rotterdam who runs into all kinds of trouble with clients and creditors, and decides to build a balloon and escape to the moon. The lyrics take that as a launchpad. There are lots of references to the original story in the lyrics – the whole trip took 19 days, for example. Once the idea took shape it all became more abstract, and like most of my lyrics it was more about words that sounded good and worked with the music."
Adds Golan: "Rod came in with the initial riff, and we started turning it inside out, upside down and dissecting it all. Our first couple of songs were epic and long, so we wanted to make this one fast, short, and sweet. Once we had the music sorted out, Rod came in with melodies and lyrics – and boom!"
Golan's long-term working relationship with Richard Crimlisk and RC Media helped shape the music video for "Moon Man," a colorful and captivating comic art animation clip that could have blasted out of beat-up television sets on Headbanger's Ball in the late-'80s, its characters drawn on every high school notebook across America. At first, RC Media offered to do a lyric video and some social media content for "Moon Man," but as the art direction emerged and the creative vision began unfolding, Officer X knew it had a full-blown music video in the works. "They just went wild with it," Golan says. "It was way more than I imagined."
In the clip, van Stoli and Golan run ground control as a sci-fi spaceship races through the galaxy, encountering aliens, robots, and other devilish creatures. It's a space odyssey set to metal, with RC Media incorporating various styles of animation, from digital to hand drawn to rotoscoping, for a visual as loud as the band's riffs.
"The general idea for Officer X's 'Moon Man' music video was to do a callback, of sorts, to comic art and animation styles of the '70s and '80s, such as Heavy Metal," says Crimlisk. "I feel like metal music matches and blends perfectly with comic style animation because of the bigger-than-life and over-the-top vibe it brings. Whether it's an intricate harmonized guitar solo or falsetto vocals swooping over a galloping bass and drum beat, there's an energetic and outrageous playfulness that seems to lend itself very well to animation."
"We absolutely love it," admits van Stoli. "It turned out to have nothing to do with the original theme of the song, and that's better I think. The song has this bouncy rock and roll thing happening, and while it was never intended to be humorous it works great with the funnier vibe of the video. One thing that many people forget is how much humor there is in metal and hard rock. The best bands really don't take themselves all that seriously, even if the subject matter they cover lyrically is on the somber side."
And that holds true for a lot of what Officer X has been up to lately, taking sonic cues from the heavy metal icons that raised us, but also pushing the genre forward and injecting some new life into an old stodgy beast. It's another stark reminder that despite what the glossy blogs or faded old-timers may say, metal is far from dead. Or perhaps it's simply undead, lurking just behind an exotic, unexplored mountain range in one of RC Media's far-away planets.
"People have been declaring heavy metal's demise for at least 40 years," van Stoli concludes. "No, it's not dead, but maybe it's living dead? Like one of those fast zombies from 28 Days who rip your face off before you even see them? There's definitely plenty of life in the doom, death, and stoner side of metal, but traditional metal bands are also alive and well. We have shared bills with much heavier acts, all-out screamers with seven-string guitars and non-stop double kicks, and they always tell us how refreshing it is to hear our older-school take."
Take that to the moon, man.
Media Contact: Please direct all press inquiries to Michael Marotta at michael@publisist.co or Officer X at officerxbooking@gmail.com.
***
'Moon Man' production credits:
Written by Rodrigo van Stoli and Peet Golan
Recorded at Q Division
Produced by Officer X and Matthew Alexander
Mastered by Mike Kalajian at Rogue Planet Mastering
Mixed by Matthew Alexander
Music video by RC Media/Spliced Iris